Upcoming Events
Documentary Competition: Spotlight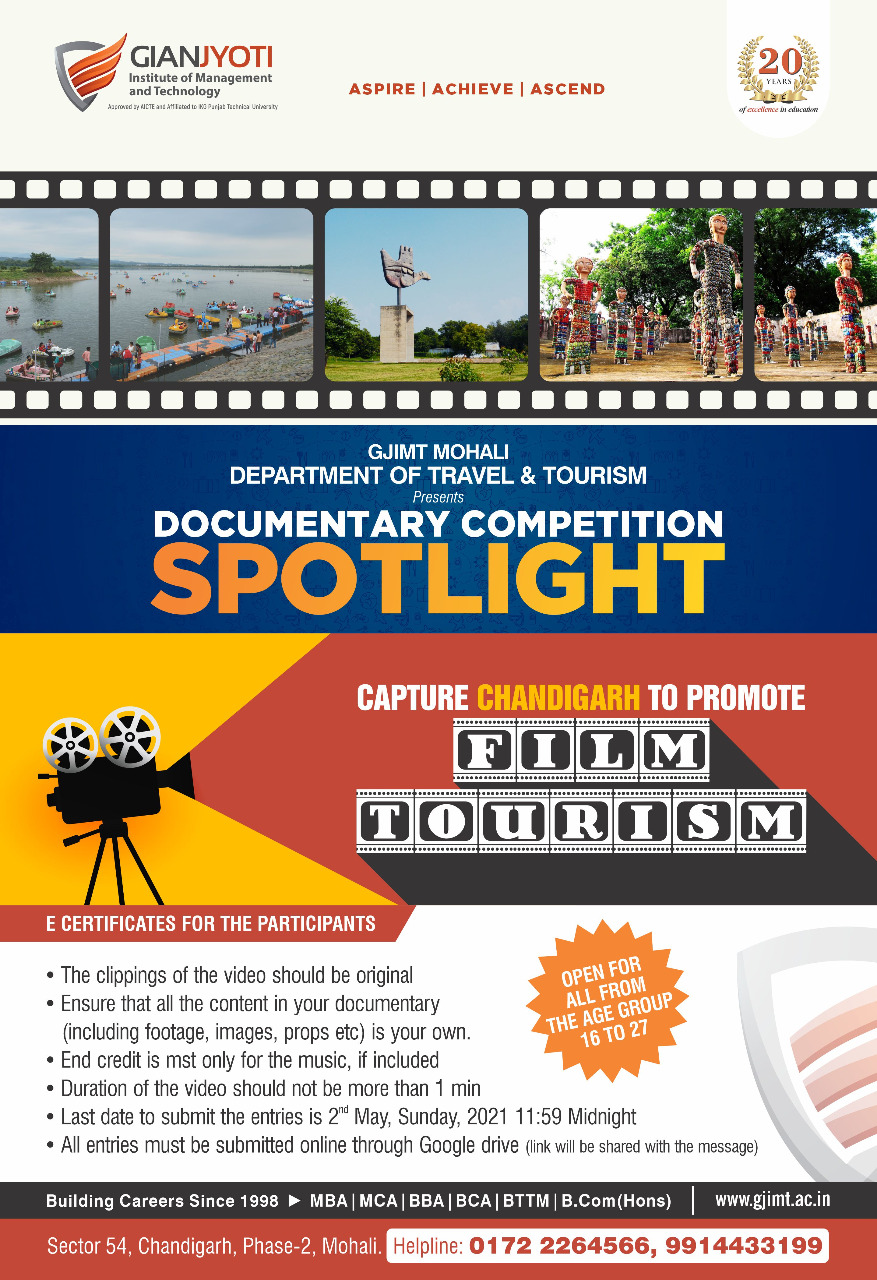 Our Indian Entertainment Industry put a huge investment in the making of Films, Ads, Music Video and many more other projects. The intention of organising this global online event was to encourage students to make them aware regarding cinematic tourism in India. The thought of initiative SPOTLIGHT: A Documentary Competition was under, Department of Travel &Tourism. The theme of the competition was 'Capture Chandigarh to Promote Film Tourism'. The event was open for the age group of 16 to 27 years from in or outside the country. The participation was overwhelming and got tremendous responses from the contestants. In just a minute of video, participants touched various stories which talks about so many beautiful aspects about Chandigarh likewise the story of City Beautiful- A systematic and organised place to live, Food and Cuisine, Beautiful attractions, People and their Culture, Religious Places, Hotels and nearby Resorts and many more. The participants were awarded with e-certificates and Director GJIMT, Dr.AneetBedi personally shared a message to each participants with a word of encouragement to remain consistent and handed over the responsibility to become a torch bearers to promote the film tourism in our country and encourage other countries also to visit India and invest on cinematic which gives a boost to our economy in the future.
Declamation Competition: The Second Wave impact of Coronavirus in India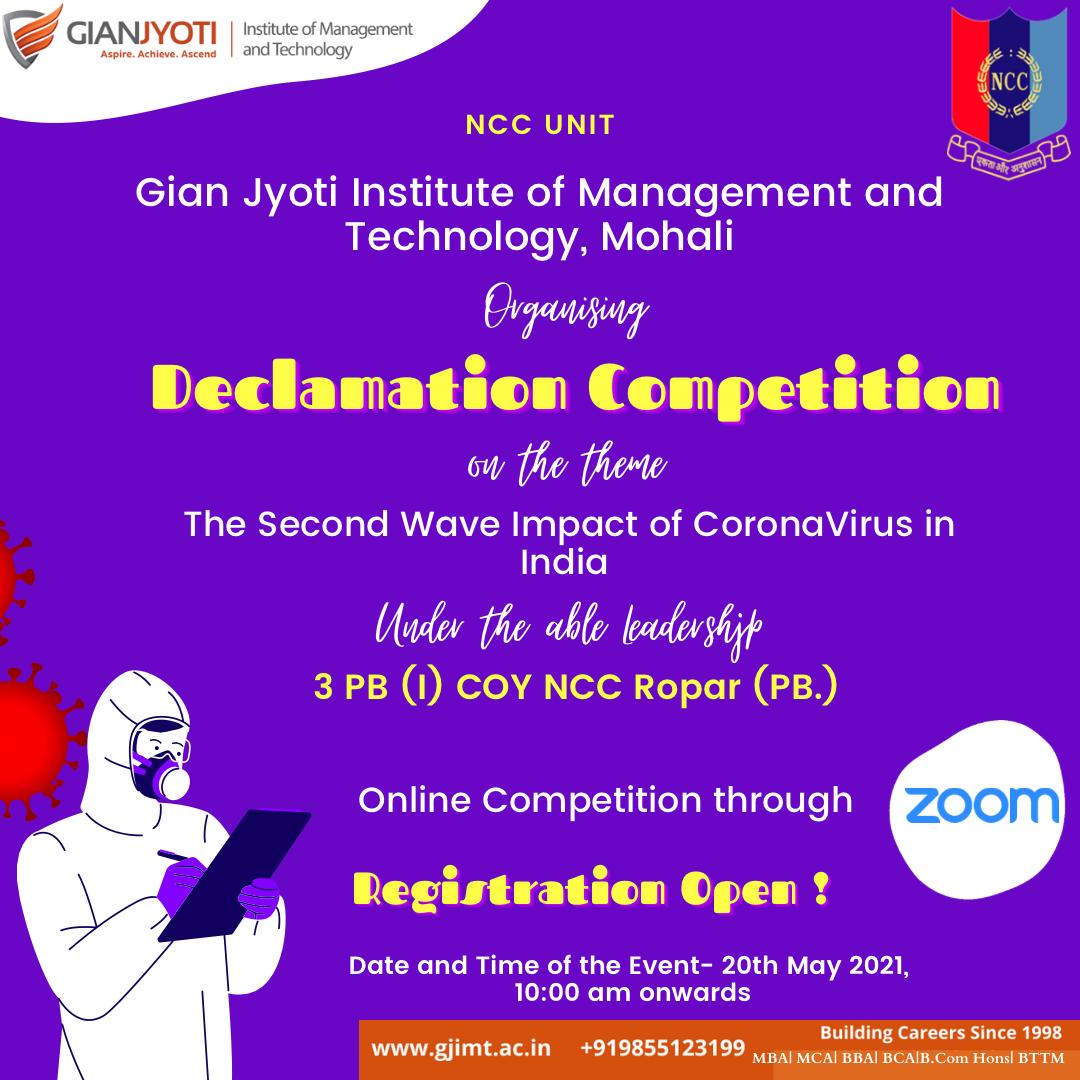 To increase the awareness and upgrading the knowledge regarding the second wave impact of coronavirus in India, NCC Unit of GJIMT is organising a Declamation Competition on 18th May 2021. The primary agenda of organising this event is to highlight the contribution of NCC in the development of a strong base of military force to construct a solid nation. The participants are allowed to share 2 to 3 minutes of video in English or Hindi language. The event will be graced in the presence of Patron, Dr.AneetBedi (Director GJIMT), Guest of Honour Col. Sidharth Chowdhury, Commanding Officer, 3 PB (I) NCC Ropar (PB.) under the able leadership of 3 PB(I) Coy NCC Ropar, Punjab. The video required to include the authentic facts and figures, positive stories and the productive solution which guides to rebuild and revive the economy on track.
18th National Conference: GJ-NatConMITE 2021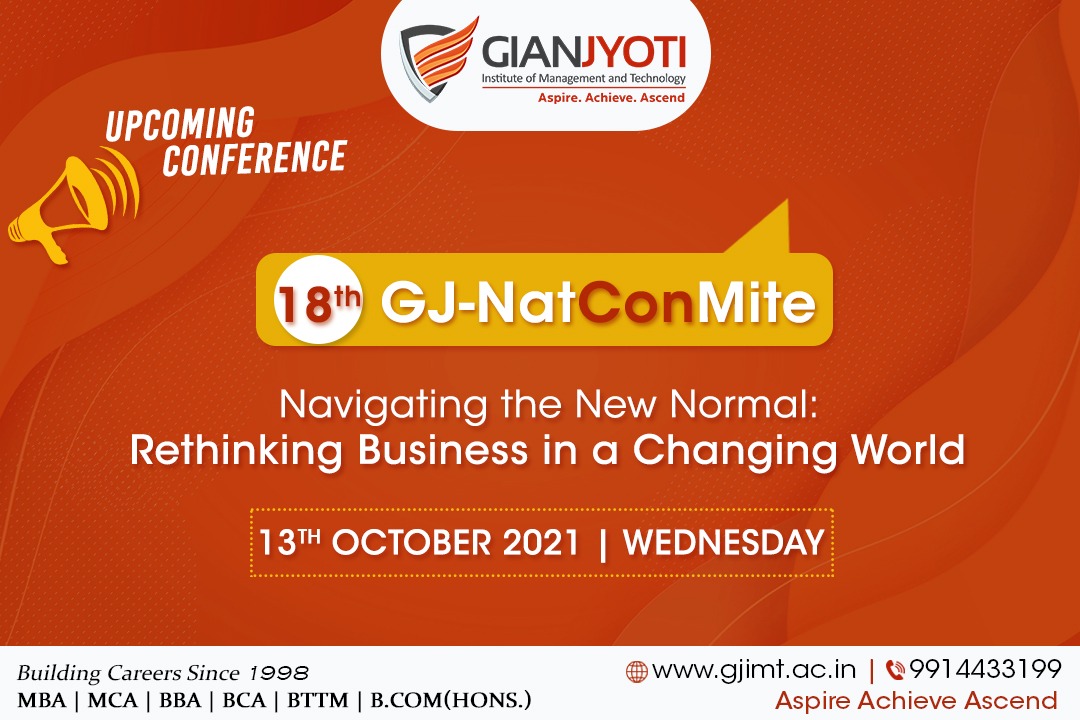 GJIMT is known for organising consecutive series of National and International conferences on different themes and issues. By keeping the view in the mind of upcoming scenario and changes expected to happen due to Covid-19 pandemic, GJIMT has released the subject of forthcoming18th National Conference i.e navigating the New Normal: Rethinking Business in a Changing World. This is the opportunity for the researchers and academicians to present the research work on the common theme.The participants will also be provided a chance to get selected for "Best Paper Award" for each technical session.Due to overwhelming responses and the immense feedback from participantson our past events, the date of the event declared beforehand i.eWednesday, 13th October 2021.