Digital Wallets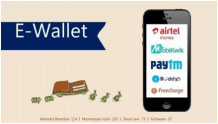 A digital wallet also known as "e-Wallet" refers to an electronic card which is used for transactions made online through a computer or a smartphone.[1] Its utility is same as a credit or debit card. An E-wallet needs to be linked with the individual's bank account to make payments. An E-wallet is protected with a password. [2] With the help of an E-wallet, one can make payments for groceries, online purchases, and flight tickets etc. Money can be deposited in the digital wallet prior to any transactions. The credentials can be passed to a merchant's terminal wirelessly via near field communication (NFC).
E-wallet has mainly two components, software and information. The software component stores personal information and provides security and encryption of the data. The information component is a database of details provided by the user which includes their name, shipping address, payment method, amount to be paid, credit or debit card details, etc.
BENEFITS
Increases the security of the transaction since the wallet typically does not pass payment card details to the website.
The main objective of e-Wallet is to make paperless money transaction easier.
What do I need to start using an e-wallet?
Bank Account.
Smart phone.
2G/3G/4G connection.
A free wallet app.
Source: